Markets
Infrastructure construction in Germany is an important part of HOCHTIEF Infrastructure's business. Furthermore we are represented in Europe's key markets by our subsidiaries. We offer our clients a wide range of competencies in the regions as well as comprehensive services for constructing and modernizing of infrastructure and much more.
On this page
Markets
In and around Essen, Cologne, Frankfurt, Munich, Berlin and Hamburg we offer a wide range of competencies as well as comprehensive services for constructing as well as modernizing of infrastructure and much more.
HOCHTIEF has a venerable history, as well as extensive experience of the special aspects of building in other cultures—worldwide.Thanks to its mix of engineering competences, experienced project management, and its knowledge of the distinctive features of the respective countries, we are able to successfully complete our projects.
We are represented in Europe's key markets by our subsidiaries. Our references moreover include a large number of major projects in selected regions outside Europe.
We offer you the entire spectrum of civil, underground and infrastructural engineering: road, tunnel and port-building, marine engineering, lock construction, cavern and gallery building, and power plant construction. Our experience extends from the planning to the construction of demanding projects, through to the implementation of PPP projects—from modernization to new-build. Proximity to our clients is writ large at our local units which have the character of medium-sized companies. Together with our clients we realize projects in the metropolises and, where necessary, also follow them up regionally.
Outside Germany we offer infrastructural services in the segments of transportation, energy and supply infrastructure in Northern, Western and Eastern Europe.
In this way we are able to ensure―together with our clients―that traffic flows better on modern roads and railways within and between conurbations as well as that power plants deliver sustainable energy.
Locations
Infrastructure construction in Germany–our units
For our clients, we develop customized, innovative and economically viable solutions while always observing the high standards in connection with work safety, quality and adherence to deadlines.
Essen and Cologne
In North Rhine-Westphalia we process the infrastructure market from the offices of HOCHTIEF Corporate Headquarters in Essen and Cologne. We know the respective local requirements and circumstances. Our partners and clients have been successfully cooperating with us for decades in the Rhine and Ruhr regions and other parts of Germany's most populous federated state
There is a particularly high demand for modernization and expansion of the transport and energy infrastructure in North Rhine-Westphalia. In many places throughout the world we have repeatedly shown that we have the expertise and know-how to build infrastructure projects of varying size and complexity. For instance, HOCHTIEF experts from Essen also played an important role in the construction of the Channel Tunnel in Great Britain or the Gotthard basic tunnel in Switzerland. Hence, you in North Rhine-Westphalia also benefit from our international experience.
Hamburg and Berlin
With our Germany North-East branch in Hamburg, as well as in Berlin, we plan and realize infrastructure projects of different sizes and complexity in the fields of structural, environmental and energy engineering. In addition to the construction of large bridges, our focal areas also include harbor, marine engineering and railway projects. Our market comprises the federal states of Berlin, Brandenburg, Bremen, Hamburg, Mecklenburg-Vorpommern, Lower Saxony, Saxony, Saxony-Anhalt, Schleswig-Holstein and Thuringia.
Our service spectrum in project handling covers the whole range from planning and design in our in-house technical office through to execution in partnership-based cooperation with our clients, subcontractors and suppliers. We accompany some projects all the way to commissioning and even take over subsequent operation.
Frankfurt
The cradle of HOCHTIEF is in Frankfurt. Our clients value the company's special engineering services and know-how―not only in the Main metropolis but also in many countries throughout the world.
Our branch HOCHTIEF Infrastructure Southwest, headquartered in Frankfurt on Main offers its solutions to clients in Hesse, Baden-Württemberg, Rhineland-Palatinate and Saarland. This includes the new construction and modernization of railways, roads and tunnels as well as the expansion of the utility and energy infrastructure.
The references of the branch in particular include providing technically demanding services when constructing complex major projects, such as construction work on the newly built ICE Rhine-Main section of the high-speed rail link. They also involve the modernization and new construction of numerous tunnels, amongst others for Deutsche Bahn. Our branch's latest project is the construction of the Bad Cannstatt tunnel and the related regional and long-distance rail link in the course of the Stuttgart 21 project as well as the new construction of the second lock at Trier.
Munich
With our branch HOCHTIEF Infrastructure Southeast we operate throughout Bavaria from our Munich headquarters. There we offer our clients the whole service spectrum in the market segments transport and energy infrastructure.
We take over projects, also right through to electrical engineering and mechanical equipment. Through networking construction, intelligent traffic management technology and state-of-the-art systems for tunnel safety―Fixed Operating Equipment (FOE)―we lay the foundations for tomorrow's safe and sustainable mobility.
Together with our employees we execute complex civil and underground engineering projects from planning right through to construction. With our know-how we provide intensive consulting, as well as technically and economically optimized planning. We naturally ensure timely, perfect project processing and construction work.
All our branches in Germany are always available for your projects with the technical support of their experienced teams and the know-how of our company's own Technical Competence Center.
International Units
In the Netherlands we built an important section of the A1/A6 highway between Amsterdam and Almere. We are also improving the flow of traffic between the Amsterdam/Rotterdam region and Germany with the ViA15 project.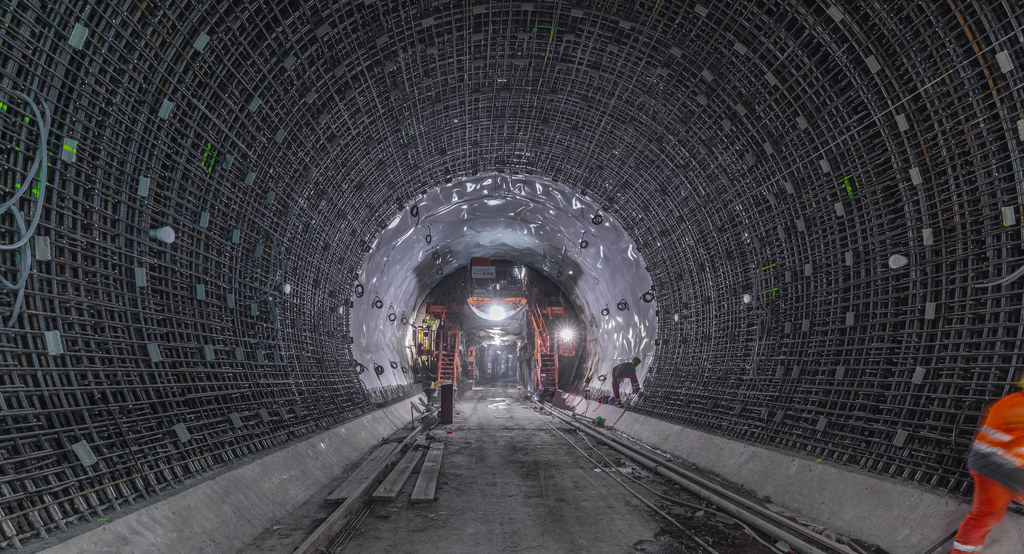 We have been established in Scandinavia for several decades and our work there includes the construction of the bridge across the Great Belt and the Öresund Bridge. At present we are primarily engaged in major downtown transportation projects, for example a powertunnel in Stockholm and parts of Metro Copenhagen.
You can also find out more about our activities in the UK, where one of our most recent projects was our involvement in the construction of the gigantic Queensferry Crossing in Scotland.
In Austria we are mainly engaged in building new routes for the road and rail networks. In recent years, for example, we have extended the A4 and A5 highways. We are currently involved in the construction of the Koralmbahn tunnels and the Semmering Base Tunnel.
HOCHTIEF Polska builds airports, ports and industrial real estate. Office and residential construction is another of our main strengths in Poland.
With our subsidiary HOCHTIEF CZ, in the Czech Republic we undertake projects in the areas of public-sector building construction, office buildings, waste water treatment, industrial construction, as well as tunnel and road-building. We operate in the Slovakian market with HOCHTIEF SK.